The terms and conditions for the ICAEW Virtually Live 2021 prize draw for delegates to win a pair of virtual reality goggles.
And the winner is...
We are delighted to announce the winner of our competition for a pair of Oculus Quest VR Goggles is Holly Dolan from Hampshire! Holly who is a Financial Controller in business told us the five sessions she watched during Virtually Live including her favourite - Future leaders: driving forward your career. You can watch Holly's favourite session and many others on-demand now.
About the competition
Watch five sessions at ICAEW Virtually Live and enter our competition to win a pair of Oculus Quest VR googles. Enter by letting us know what five sessions you watched and what your favourite one was through our ICAEW Virtually Live event feedback form.
Submit your feedback from between 17-25 June 2021 to be in with a chance to win!
These googles aren't just for gaming. Explore anywhere from the comfort of your living room and teleport yourself to your ideal destination, from strolling the gardens of Taj Mahal to virtually visiting the Pyramids of Egypt. The world is your oyster!
Terms and conditions
This competition is open to ICAEW members aged 18 or over who have attended five full sessions at ICAEW Virtually Live 2021 across the three-day event.
The Promoter is ICAEW, Chartered Accountants' Hall, Moorgate Place, London EC2R 6EA.
The prize is one pair of virtual reality goggles.
The ICAEW Virtually Live Competition Prize Draw will be open to entries from 17 to 25 June 2021. Any entries received after the closing date of 25 June 2021 will be void and not be entered.
To enter the prize draw, participants need to watch five full sessions at ICAEW Virtually Live between 15 and 17 June 2021 and submit the titles of the sessions they have watched and the title of their favourite session and why as part of the mandatory question on the feedback form. The following information will need to be supplied as part of the ICAEW Virtually Live feedback form:
- Full name*
- Email address*
- Telephone number*
- County (or country)*
ICAEW accepts no responsibility for incomplete, incorrectly submitted, delayed, misdirected or illegible submissions.
The draw will take place between 25 June 2021 and 1 July 2021.The winner of the competition will be the first individual chosen at random by ICAEW from all entries correctly submitted in accordance with these terms and conditions.
The winner will be contacted via email by 1 July 2021.
The winner will have until 4 July to accept the prize and let ICAEW know if they are happy to share their details when announcing the winner on ICAEW member emails and the ICAEW Virtually Live microsite (live.icaew.com). This will include: Full name and county (or country) location.
The winner will be announced on 8 July via email to all attendees and on ICAEW and on live.icaew.com.
In the event that within four days of the draw the winner cannot be located or successfully contacted, or ICAEW does not receive an acceptance of the prize from the winner, another winner will be chosen at random. This winner will have four days from the time ICAEW contacts them to accept the prize and indicate whether they consent to publication of their name and county in member emails and on live.icaew.com. The winner will be announced four days after the date of the winner's acceptance.
In the event the winner does not wish to have their surname and county (or country) published, ICAEW has the right to announce that an individual has won without these details on 8 July (or on an alternative date should the first winner not accept the prize and another winner be chosen).
The prize will be sent to the winner within four weeks from the winner announcement date.
By entering the competition, participants grant permission for ICAEW to request their participation in, or cooperation with publicity.
No cash alternative or alternative prizes are available on request.
The Promoter reserves the right to replace the prize with products of a similar type and value.
Using your personal information
The protection of personal privacy is an important concern to ICAEW. Any personal data collected will be treated in accordance with current data protection legislation.
We will use your personal data for the administration of the competition. ICAEW will not use or share personal data provided with third parties for marketing purposes.
Please note, if you are successful, we will use your email address to contact you and will require a postal address for you in order to facilitate your prize. We would also like to also mention your surname and county (or country) on live.icaew.com and member focused emails.
If you do not want your surname and county (or country included on the list of winners announcement referred to above, you must notify the promoter at lucy.woolf@icaew.com within four days of receiving an email from ICAEW stating you have won. Please refer to term 12.
For more information about our data protection policy please go to icaew.com/icaew-policies.
Back for 2021
Virtually Live returns 15-17 June 2021. ICAEW will be hosting a series on live and on demand sessions providing insight and expertise on the key issues effecting finance professionals.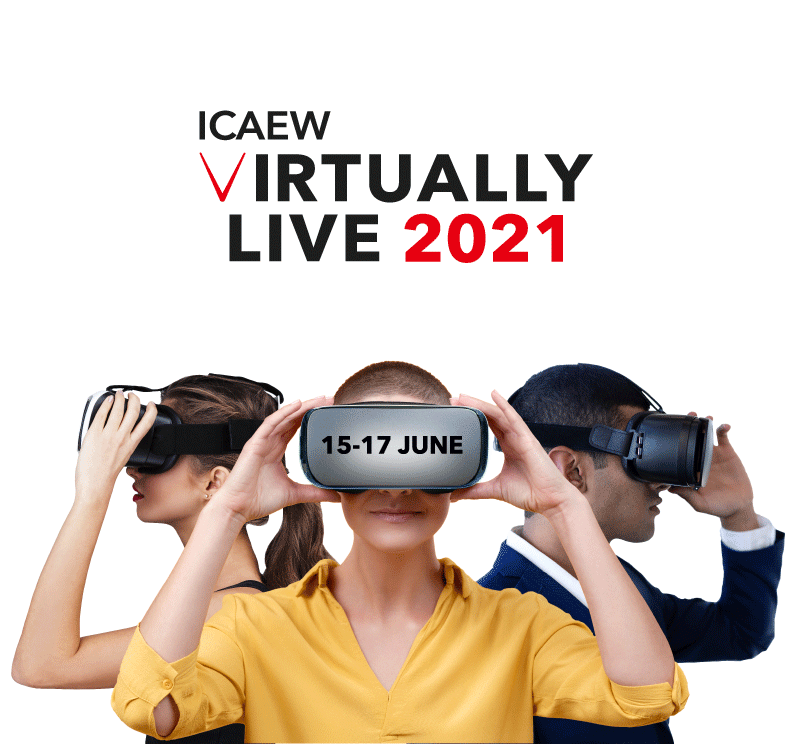 Highlights from our programme
Live Session - Recording available
Keynote: Post-COVID recovery: tales from across the world
Video
15 Jun 2021
10:05 - 10:55 BST
What will our global economies look like when the pandemic is over, and how will we get there? Hear from: Julie Brown, CFO of Burberry; Jacqueline Chan, CFO and Managing Director of DBS Bank Hong Kong; David Mellor, CEO of Crowe Global; and and Ronan Dunne, EVP and Group CEO of Verizon.
Live Session - recording available
Keynote: Governance and audit reform
Video
16 Jun 2021
09:35 - 10:20 BST
Sir Jon Thompson, CEO of the FRC, will provide an update on the key issues, challenges and questions that have emerged following the UK government's proposals for governance and audit reform.